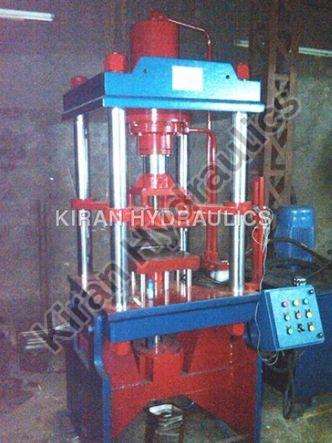 Hydraulic Deep Drawing Press Machine manufacturers understand the demands of the metal industry. These machines are available to make your job easy and convenient.
A hydraulic deep drawing press machine is a special kind of machine that is used in metalworking industries for the procedure of deep drawing. What is deep drawing? It is a metal forming technique in which a flat sheet metal blank is moved into a three-dimensional shape. It is commonly made with a cup or even a cylindrical component by applying some pressure.
There are lots of Hydraulic Deep Drawing Press Machine manufacturers available in the market who are supplying quality press machines. To find the most reliable one, all you need to do is choose the best one as per your requirements.
Here are a few important features and components associated with the hydraulic deep drawing press machine:
Frame

The machine is created with a sturdy frame to give it structural integrity and assist the components.
Hydraulic System
The hydraulic system directly powers the machine and gives the required force for the deep drawing procedure. It is made with hydraulic cylinders, a hydraulic pump, valves, and hoses.
Bed and Ram
The bed has a flat surface where the sheet metal blank is positioned, and the ram is going ahead of the machine that applies pressure to the blank. The ram is driven by the hydraulic cylinders and moves in a vertical direction.
Die and Punch
The set of dies and punches is used to shape the sheet metal blank. The die is supposed to be a stationary component. On the other hand, the punch is joined to the ram and works accordingly. The punch uses force to apply force to the sheet metal and push it out into the die cavity, therefore creating the desired shape.
Blank Holder
The blank holder is an important component that holds the sheet metal blank in place during the process of deep drawing. It prevents the material from wrinkling or buckling by exerting counterpressure on the material.
Control System
The advanced machines are made with a proper control system that lets the operators set
Parameters, which include speed, pressure, and length of the stroke. It makes sure of the right and repeatable operation.
Safety Features
No doubt, safety is one of the most important aspects of any sort of industrial machine. Hydraulic deep drawing press machines may have safety features that include emergency stop buttons, light curtains, and even safety guards to protect operators and avoid accidents.
The advanced-equipped machines are offered by Hydraulic Deep Drawing Press Machine Manufacturers.

They are widely used by different industries, such as automotive, appliance manufacturing, aerospace, and metal fabrication. In these industries, the production of intricate and seamless metal components is necessary. They provide high precision,
Effectiveness, and the ability to practise a wide range of materials with special thicknesses. You can easily place your order online, as the suppliers ensure to deliver faster and more easily to everyone.