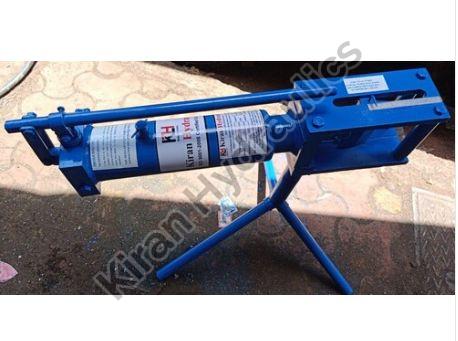 All bus brake applications require the use of a busbar bending machine. It effectively compresses and releases the brake fluid. This ensures the bus brakes' secure and proper operation for seamless braking and speed. The machine consists of a connecting rod, a piston, and a sleeve that exert physical pressure on one another.
Read on to know more about aluminium busbar bending machine, their uses, benefits, and factors to consider when buying them.
What is a Busbar Bending Machine?
A busbar bending machine is a cutting-edge piece of equipment that can bend busbars all at once. It can execute practically all of the necessary functions and is useful for creating busbars. Because of its extremely high output, the machine keeps up with the rising demands of many different industries.
The busbar machine has a separate station where the bending operations take place. These stations operate simultaneously to complete the necessary work, enabling greater rates of production.
Why Should You Choose Aluminum Busbar Bending Machines?
Even after a little period of storage, aluminium develops strong insulating oxide coatings. It is only useful for creating electrical connections on large conductor cross-sections and is unbrushed. Such contact surfaces should ideally be smooth.
Aluminum bus bars are prominent in the power sector because of their:
• light nature
• high electrical conductivity
• ease of bending and forming
• cost-effectiveness
• resilience to weathering
Uses for Aluminum Busbar Bending Machines
It is useful in various industries because it is available in a range of sizes and designs. Prominent manufacturers and providers in the sector purchase it, fabricating it with cutting-edge equipment and premium raw resources.
Numerous uses call for the usage of the busbar bending machine. This includes seat belt fittings, tyre and flange couplings, pumping seals, valve stems, sealing hinges, etc. These applications require this machine to operate at its full potential to deliver outstanding results. This is why choosing the appropriate equipment for your operation is crucial.
Benefits of Aluminum Busbar Bending Machine
Busbar bending machine is incredibly portable and adaptable. The machine's main drive motor provides power. It has an integrated control panel and a small hydraulic power pack.
The device is extremely robust and capable of producing higher outputs. The device is also accessible in a high-speed version. It claims impressive hydraulic and electrical parts that meet international standards. This ensures a long machine life with little upkeep needed.
Crucial Things to Consider When Purchasing a Busbar Bending Machine
•Before making your final choice, it is crucial to carefully weigh all of your possibilities when buying the equipment. The following are the things to consider:

•Ensure the machine you are purchasing has a sufficient capacity to meet the amount of demand for your purpose.

•The device must be transportable enough to allow for simple switching between various apps.

•Additionally, it should be able to do a variety of bending tasks simultaneously to help reduce time and labor expenses.

•The cost of the item is among the most significant aspects that can assist you in selecting the best machine. Considering the evaluations and the company's costing is the easiest approach to figuring out the actual cost of this machine.

•The machine's size should be taken into account when determining a purchase. Nevertheless, you are free to select the machine's size according to your needs.

The busbar is a widely used tool for distributing electricity. The cost of the item is among the most crucial elements that will aid you in choosing the best machine. Examining all of the evaluations and the company's product prices is the easiest approach to figuring out the machine's true cost.